Charts are all for Netherlands, from 5 Feb 2020 until 22 Nov. 2021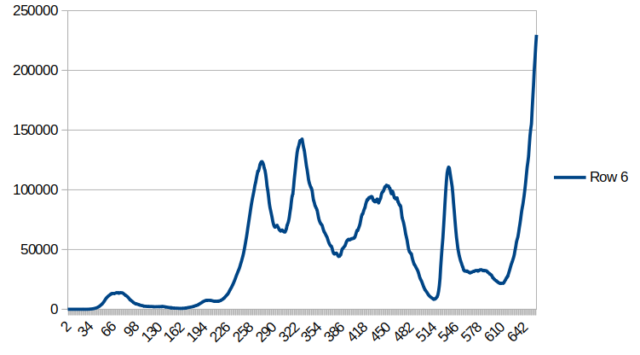 Above chart: Number of people (still) sick on a given day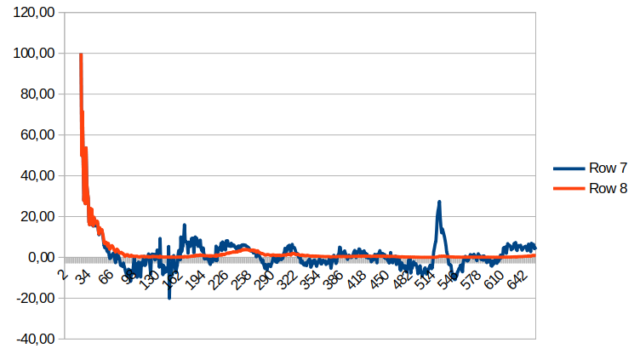 Above chart: Reproduction number in % minus 1 on any given day (blue line).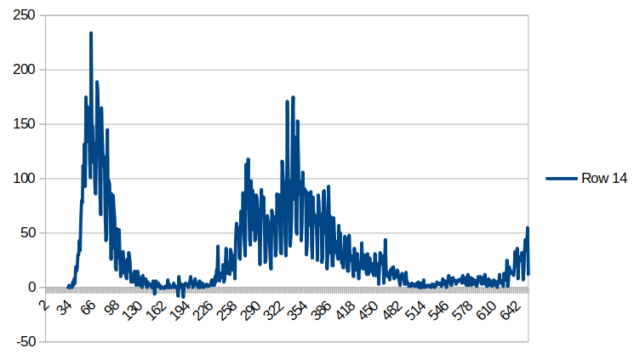 Above chart: Number of deaths on a given day.
Own statistics based upon numbers supplied by WHO
Wat opmerkingen hierbij (uit de losse hand:
Wat je ziet en wat verontrustend is, dat is de lijn rechts die in ee eerste grafiek als een pijl omhoog gaat, die misschien iets naar rechts lijkt af te buigen, maar toch onverminderd omhoog gaat, en dat veel hoger en steiler dan op welk eerder moment ook tijdens de pandemie
Wat heel merkwaardig is dat is die piek die er in het reproductiegetal zit
dat moet zou je zeggen haast een fout in de statistieken zijn
maar dat is het niet. De piek zit rond 10 juli. Als je de eerste grafiek precies boven de tweede grafiek neerlecht dan zie je dat rond 10 juli het reproductiegetal omhoog gaat, en ongeveer twee weken later gaat het aantal zieken op een dag ineens scherp omhoog.
Het is wel vreemd, wat is er toen gebeurd waardoor het zo omhoog schoot?
De vrij constante verhoging in het reproductiegetal die aanleiding is voor de huidige stijging begon op 8 oktober. Het is opmerkelijk hot constant de lijn daar min of meer is. Ook dat hebben we in de pandemie nog niet eerder gezien.
De derde grafiek geeft indirect het effect van de vaccinaties aan.
De grafiek geeft het aantal overlijdens op een bapaalde dag aan. Ondanks de ronduit enorme stijging van het aantal zieken, nu twee keer zoveel als op welk ander moment tijdens de pandemie ook, het aantal overlijdens (hoewel altijd natuurlijk te hoog) is nog steeds een enorm stuk lager dan tijdens de twee grote maxima hierin in de grafiek.