Grafieken met statistiek zoals ik die de afgelopen weken vaker gepubliceerd heb. Vandaag alleen voor Nederland. Beide grafieken lopen van 13 maart t/m 19 april.
De eerste grafiek, die met 2 curves:
Oranje = percentage toe- of afname positief geteste personen per dag (links is 13 maart, rechts 19 april.
Blauw = een (goede) benadering van het percentage toe- of afname van het absolute aantal patiënten per dag.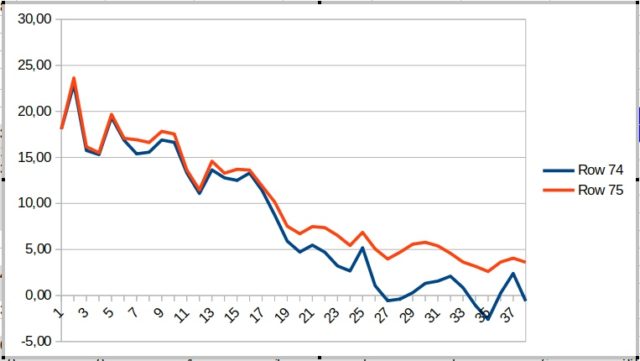 De grafiek met één curve(hieronder) laat het absolute aantal patiënten per dag zien. Opnieuw onderaan de dagen van links naar rechts.
Wat je in de beide grafieken goed kunt zien is dat het absolute aantal patiënten nog niet steeds veel afneemt. Dat zou vanaf deze week naar beneden moeten gaan (incubatietijd + ziektetijd). Dit loopt 2 weken achter op de daling van het aantal nieuwe patiënten.
De benadering van het aantal patiënten heeft rechts in de beide grafieken een afwijking van maximaal 5% (ten opzichte van het aantal mensen dat getest is, want daarop is het gebaseerd). Naar links toe wordt deze marge steeds kleiner. Het kan dus zowel dat het aantal patiënten rechts 5% meer afneemt dan de grafiek aangeeft, als dat het 5% minder afneemt of gewoon niet afneemt.
Het cijfer verticaal zijn in de eerste grafiek procenten. In de tweede grafiek het aantal geteste mensen dat op dit moment nog corona heeft.
Cijfers zijn op basis van de cijfers die de WHO dagelijks bekendmaakt.